Custom Fireplace Doors by Energy Savers Fireplaces
Why purchase your custom doors through Energy Savers you may ask? We have been installing fireplace doors since the 1980's and we plan to continue far into the future. What makes it easy is our knowledge and expertise in this industry as well as partnering with a fabulous door manufacturer, such as Stoll Fireplace Doors. William Stoll has been making quality and custom doors for over 50 years and the brand has developed into the modern company it is today through continued perseverance and a company built on faith. To read more: Stoll Fireplace History Story
Why Glass Fireplace Doors?
Glass doors provide safety. Doors keep small children and pets away from the fire. They also keep a smoldering fire safely contained when you go to bed for the night.
Doors are economical. An open fireplace is like an open window. When left open in winter, warm air goes up the chimney – in summer, air conditioned air is lost. In both cases glass fireplace doors minimize the air loss and saves you money!
Glass doors are a fashion statement! The fireplace is the focal point of any room. Glass doors dress up a fireplace and a room like nothing else! The style and color choices are nearly endless!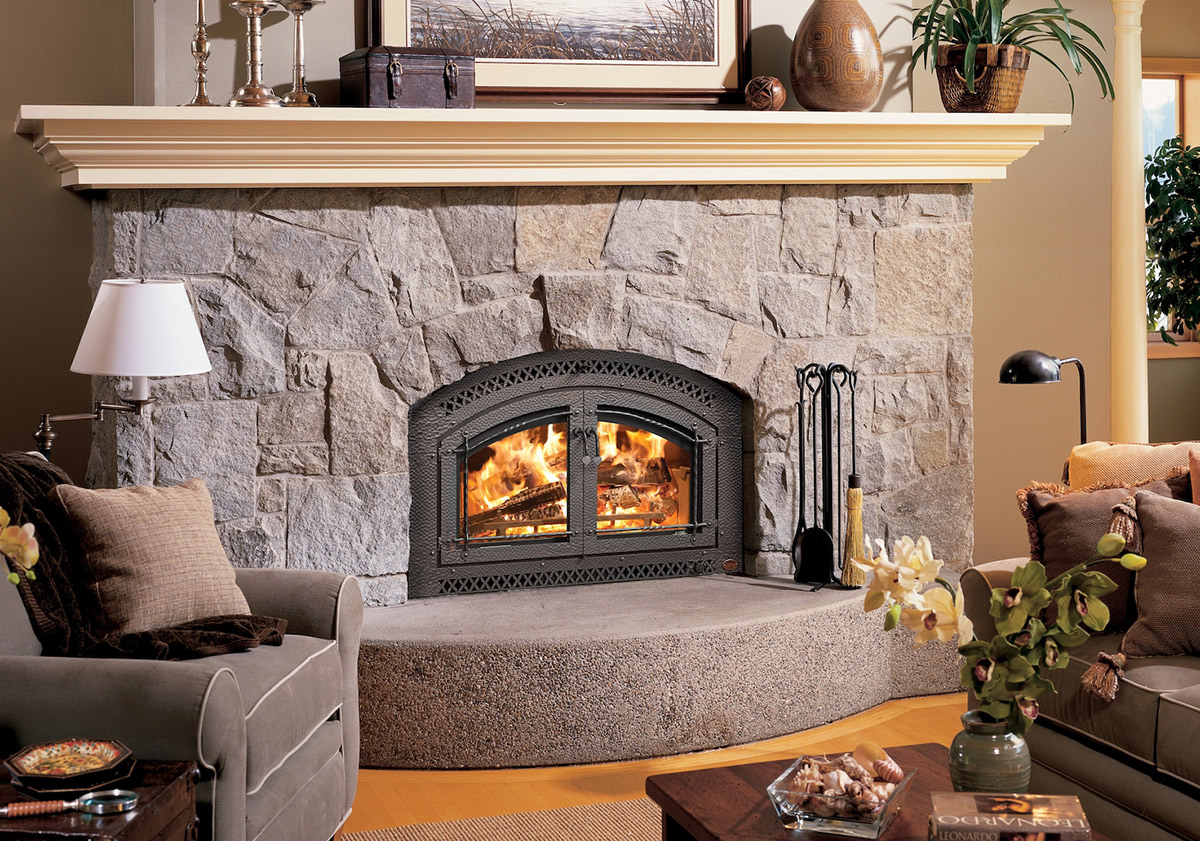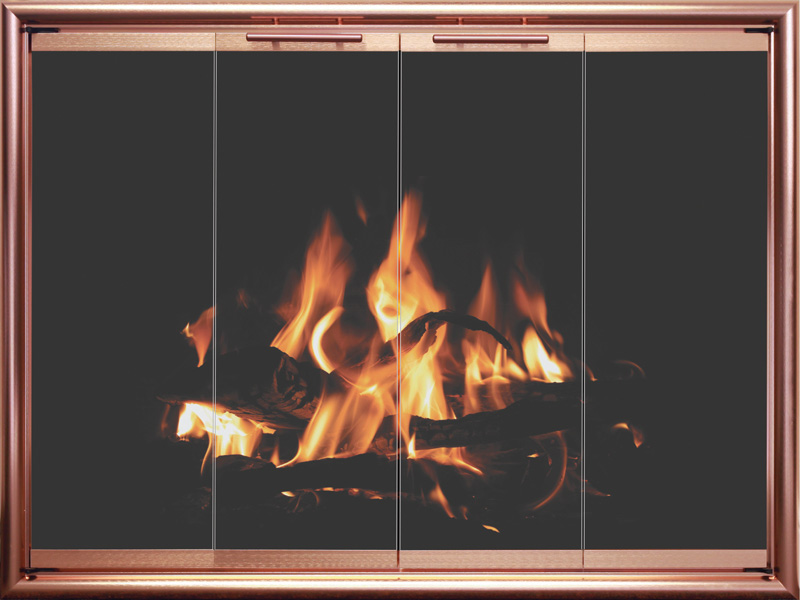 Frequently Asked Questions
Which Doors are Right for Me?
There are a few questions that you need to answer to find the perfect doors for you:
First, you must find out if you have a masonry or factory-built fireplace.
Next, are the doors for a fireplace indoors or outdoors.
Then, determine a style that will reflect your décor.
Finally, determine your price range to find what's best for you.
What is the Difference Between a Masonry vs. Factory-Built Fireplace?
Factory built fireplaces are easy to spot. If your outside chimney is faced with the same siding material as your house, you have a factory built fireplace. Masonry fireplaces require brick or stone chimneys. You must also check the fireplace itself. If there is any metal around the fireplace, you have a factory-built fireplace.
Factory-built fireplaces, also called "Zero Clearance" fireplaces, are designed to be built with very little clearance to combustible components of your home. They can do this because they have designed the fireplace so that cooling air insulates the hot firebox from the structure of the home. The glass doors must be designed to allow that cooling air to flow the way the firebox manufacturer designed it to flow. Gaps between the glass and frame vents exist on ZC doors to allow for this airflow.
Masonry fireplaces can accommodate a variety of fireplace doors. Aluminum and steel doors are available in many styles and finishes to accommodate nearly every décor and price range. From classic to contemporary, the possibilities are endless! Many options are available including glass color, pull mesh screen versus cabinet style screen. Door overlay designs are also available.
What Style of Doors are Available?
What if my fireplace is a Unique Shape?
We work with many unique shaped fireplaces. Over the years we have done several custom doors for double sided, L shaped, triple sided, arched shape, even oval shaped fireplaces. There is no fireplace shape we won't touch!
Is there a Warranty on Doors?
Yes, our doors carry a 5 year limited warranty. If you have any issues down the road, you still should be able to work with us and we can get you the correct repair part.
How do I Clean my Fireplace Doors?
We recommend using warm soapy water and a non abrasive cloth. Spray cleaners can eat away at the door finish. Make sure to towel dry to prevent water spots. If you store objects against the surface of the doors for extended periods of time, it may trap moisture, debris and discolor/harm the finish. Also placing hot objects on the surface of the doors can damage the finish. Make sure to eliminate overspray of any window cleaner from the surface of the door finish.
What is the Process to Purchase a Fireplace Door?
We first want to see you in our showroom to show you the variety of doors we have on display to help you narrow down your preferences. We have the knowledge to help you find the best door to fit your needs. There are a myriad of styles, finishes and decorative features to choose from. We then send out our door specialist to measure your fireplace opening and make sure that the door is ordered and fits perfectly and confirm the proper mounting hardware needed. Finally, our professional installers will install the door so that it operates flawlessly and looks beautiful! Don't need an installer? No problem. If you are handy, you should be able to install yourself. However, if we install, our work is warranted.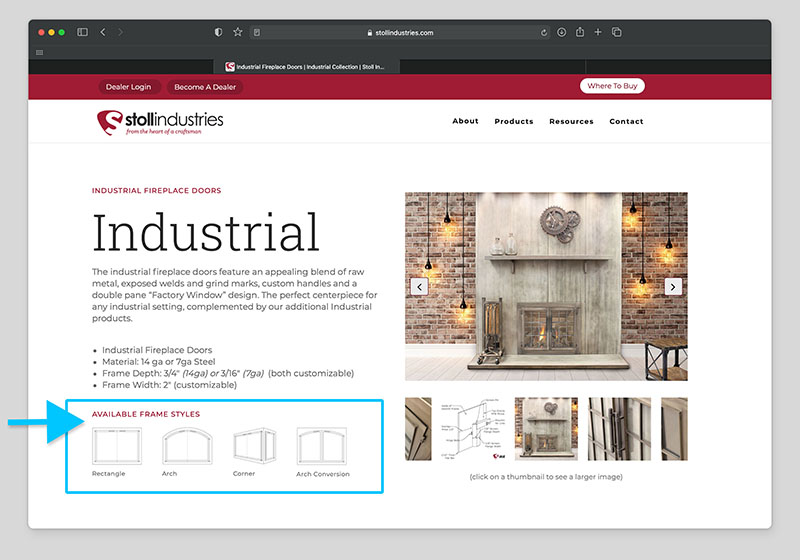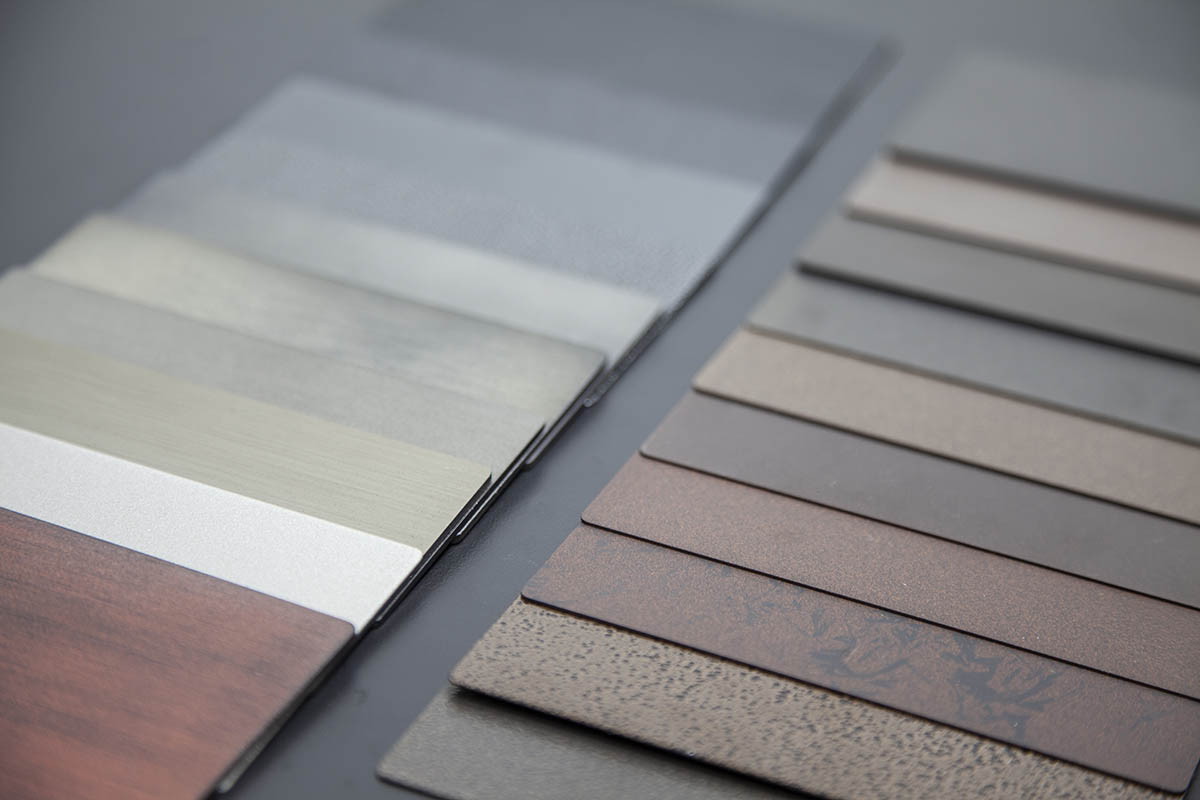 Stop by our Energy Savers Fireplace showroom to see our selection, view in store finishes and hardware choices, and receive a complimentary in-store estimate. From there, we are happy to schedule your free in-home preview appointment!
EXAMPLES OF OUR FAVORITE DOORS WE'VE DONE: